Welcome to KileighsCure.com, and our quest to fight Cystic Fibrosis and find Kileigh's cure!

Whether you are here to:
provide your support with a donation, or
join our team to help raise money and awareness, or
simply learn about our cause,
we appreciate you taking the time to visit our website, and support our effort!

We are very grateful to the Cystic Fibrosis Foundation and the Great Strides event team for helping us develop an online effort for fund raising for our local chapter, neighborhood, & Kileigh! Their system of registering walkers for teams is used to create our "Circle of Friends" to create a group of friends all raising money to help find Kileigh's Cure! Here, Friends (new and old) and Family from all over the world can now join our effort to fight this horrible disease, and help Kileigh live a full and enjoyable life, with proper treatment.

Kileigh Elizabeth was born in August 2009. She was diagnosed with CF when she was one week old. With every meal, she has to have supplemental enzymes which help to keep her digestive system functioning normally. Every day she must endure chest therapy, which helps keep her respirtory system clear. Also, she must to go to Bay State Hospital to get monitored, regularly. This is a lot for a baby to go through, and will have to deal with for the rest of her life; unless we all pull together and pitch in.

Cystic Fibrosis (CF) is a destructive inherited disease.
It is a genetic disease that affects the respiratory & digestive systems, as well as other organs. CF causes very thick sticky mucus which clogs the ducts over time that lead to the lungs. That makes it a lot harder to breath and causes lung damage and other infections. The thick mucus also clogs the ducts to your digestive system so food wont break down like it's supposed to. Also it can block your enzymes from getting through to the rest of your body. There is so much that goes wrong with this disease.

Many young people have struggled, and lost their lives from this disease. But, because of new studies, research, & discoveries today, many CF patients now live into their 30s, some even beyond that.

Great Strides is the Cystic Fibrosis Foundation's largest and most successful national fundraising event. We assemble a team of walkers every year to walk in the Great strides walk at the Ashuwillticook Rail Trail, Cheshire Farnams Road Entrance walk in Berkshire County, MA. Our last walk was 05/16/2010.

Please help us meet this year's fundraising goal of $10,000 for CF! I know if we all pull together we can meet this goal. Even if it's only a few dollars that you can donate; every little bit helps. We also need walkers, too. So please help. You can help make a child's future better.

To donate and/or join the team, click on the buttons at the top of this page!

And THANK YOU!




CLICK below: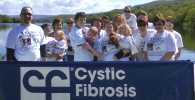 to see our Great Strides Walk
in the Berkshires 05/16/2010 !
---

$10
---

$3
---

$3
---

$5
---
---
Special Thanks to
our partners in this journey: